So, you've just hosted the holiday feast of the century, and now you're left with a mountain of turkey. The challenge? How on Earth are you going to tackle that turkey surplus without defaulting to the same old casserole recipe?
Plus, let's be honest, you're probably exhausted from the weekend festivities.
I've got your back. Let me propose nine dishes to transform your turkey leftovers into something just as exciting (if not more!) than the main event.
The best part?
There are no recipes to follow. That's right. You get to improvise in the kitchen, which will save you tons of time.
That's the true Cooking with Cat method!
I'm all about finding ways to simplify your meal prep and helping you adopt sustainable healthy eating strategies. I bet you could use that extra time to settle back into your post-holiday routine.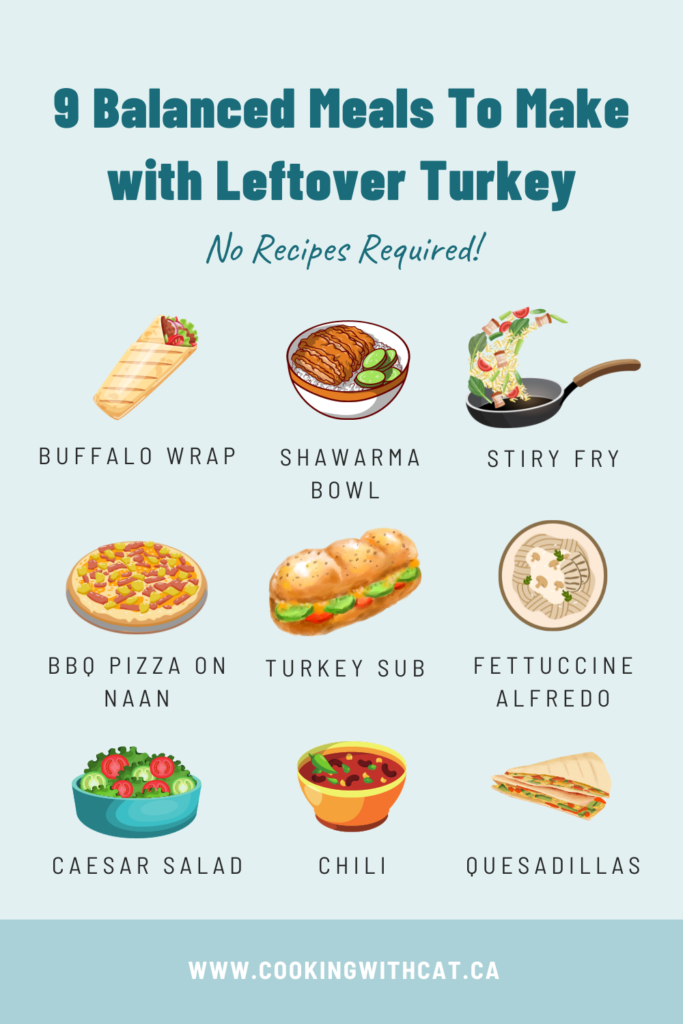 If you're a little hesitant at the idea of winging it in the kitchen, here are some simple instructions to guide you through the process and set you up for success.
9 Balanced Meals To Make with Leftover Turkey
The goal is to build meals that have lots of vegetables (about half of your meal portion), a grain product (preferably whole grain) and a source of high-quality protein (in this case, leftover turkey) to get all the nutrients your body needs.
🍗 BUFFALO WRAP
Suggested Ingredients

: Turkey leftovers, tortillas, buffalo sauce and veggies of choice (lettuce, cucumber and tomato are all great options).

Tip

: Serve with a side of veggies and Ranch dip to meet your goal of 1/2 plate of vegetables. No ranch dip on hand? Mix plain Greek yogourt with a few spoonfuls of mayo, a generous amount of Ms. Dash Garlic & Herb Seasoning Blend, a splash of Worcestershire sauce or lemon juice. Add salt to taste. Alternatively, use cottage cheese (instead of yogourt) and blend well until smooth.
🍗 SHAWARMA BOWL
Suggested Ingredients

: Turkey leftovers, lettuce, cucumbers, tomatoes, tabouleh, garlic sauce, pickled onions or cabbage, hummus, potatoes or pita or rice

Tip

: Season your turkey (garlic powder, cumin, paprika, cayenne pepper OR a store-bought cajun spice blend) for extra flavour. I like heating it in the pan or on the barbecue (lined with aluminum paper or a reusable non-stick grilling sheet) with a little bit of oil and Montreal Steak Spice to replicate the crispy edges you get from your favourite takeout spot.
🍗 STIR FRY
Suggested Ingredients

: Turkey leftovers, rice or noodles, vegetables of choice (or frozen stir-fry mix), stir-fry sauce or soy sauce.

Tip

: In a pan, start by frying the veggies on high heat. Then, add the cooked grain (rice or noodles), turkey and sauce. Stir well until your all ingredients have reached the appropriate internal temperature. You can even have a DIY family stir fry night, where everyone gets to pick their preferred grain, veggies and sauce and heat their portion, cafeteria-style.
🍗 BBQ PIZZA ON NAAN
Suggested Ingredients

: Turkey leftovers, naan bread (or homemade/store-bought pizza dough), barbecue sauce, onions, greens (cilantro, parsley or spinach), bell pepper, mozzarella or cheddar cheese)

Tip

: Spread barbecue sauce on your naan bread. Add selected toppings and bake in a preheated oven at 375F until the dough is golden. No naan bread on hand? Try making this super easy pizza dough with staple pantry items. You'll just need to prep it ahead of time as it requires at least 20 minutes to rest.
🍗 TURKEY SUB
Suggested Ingredients:

Turkey leftovers, bread roll, cheese, raw vegetable of choice, salt and pepper, sauce of choice.

Tip

: It doesn't get easier than this. Think of all the "Subway" toppings and try making your own. Elevate your sub by toasting the bun, meat and cheese in the oven (on broil) for a minute or two, before adding the raw veggies and sauce. Alternatively, take out your panini press from the back of your pantry and grill your sub until the outside is crispy. So fun!
🍗 FETTUCCINE ALFREDO
Suggested Ingredients

: Turkey leftovers, fettuccine pasta (or any pasta really!), store-bought (or homemade) alfredo sauce, vegetable of choice (broccoli, spiralized (or grated) zucchini or even spinach).

Tip

: Want to DIY your alfredo sauce? It's super simple. Mix equal parts butter (or margarine) and flour (1-2 Tbsp of each is a good starting amount for 2-6 portions) in a saucepan. Add milk (approximately 1 cup), Ms. Dash's Herb and Garlic Seasoning blend, salt, and pepper. Stir on low-medium heat until thickened. Add shredded parmesan and voila!
🍗 TURKEY CAESAR SALAD
Suggested Ingredients

: Turkey leftovers, romaine lettuce, green onions, parmesan, Caesar dressing, croutons.

Tip

: Got stale bread lying around? Cut it up into small cubes, drizzle with oil, sprinkle some dried herbs and pan fry until golden brown. You get the most delicious croutons, with zero food waste. Now that's a win-win! I like to heat up my turkey before adding it to the salad, for a more "elevated" experience.
🍗 CHILI
S

uggested Ingredients

: Turkey leftovers, canned tomatoes (no salt added is preferred), tomato paste (maximum 1 x 5oz can), corn, kidney or black beans, bell (or jalapenos) peppers, onions, seasonings (paprika, cumin, chili powder, garlic powder OR store-bought cajun spice blend), salt and pepper.

Tip

: Mix ingredients and let simmer for 15-20 minutes. Make sure to serve with a grain product (tortilla chips, bread roll, cornbread, quinoa, etc) to balance things out and get all those nutrients in (i.e. fibre, B-complex vitamins, etc.).
🍗 QUESADILLAS
Suggested Ingredients:

Turkey leftovers, cheese, tortillas, bell peppers, onions, tomatoes or salsa, black beans, and cilantro.

Tip

: In a hot pan, drizzle a little bit of oil (or non-stick spray) and lay your first tortilla. Add other ingredients, including the cheese, which is essential to this dish. Top with your second tortilla. Don't forget to flip so that both sides get golden and crispy. Serve with sour cream (or plain Greek yogourt) as a dipping sauce and drizzle with my favourite touch – Frank's Red Hot Sauce!
The meals suggested above are fully customizable, allowing you to use staple ingredients you have on hand and throw something delicious together. Although planning is always a good idea, we all find ourselves in need of a last-minute meal idea at one point or another.
Wondering which essential food staples you should add to your shopping list to make this feasible? Download my FREE Grocery Staples Checklist. You'll also receive my Zero Food Waste Guide to help make the most of your food items and save substantial money in the process.
FAQs
How long are turkey leftovers good for?
According to Health Canada, cooked poultry products (i.e. leftover turkey) can be stored safely in the fridge for up to 3-4 days. If you don't plan to eat the entirety of the leftovers within the first 2-3 days, freeze all or parts of the leftovers for later use.
I recommend pre-portioning your leftover turkey before freezing. Smaller portions are best, as you can always choose to thaw multiple portions, as needed. However, if you thaw out a portion that feels unmanageably large, you might find yourself having to throw out some of the extras. Unfortunately, re-freezing is not an option for food safety reasons.
Can you freeze your turkey leftovers and make these meals?
Absolutely. Separate the turkey meat from the carcass and freeze both individually. I recommend chopping the turkey into smaller pieces and pre-portioning it into reusable freezer bags or containers.
Whenever you're out of protein options in the fridge, you can thaw out the pre-portioned turkey meat and create these delicious dishes with limited effort.
The frozen carcass can be used, at your convenience (within 4-6 months of freezing), for homemade broth or soup.